The Pinzgau walk: a tough hike full of ups and downs. Literally and figuratively.
Susan 14 July 2020 Reading time 10 minutes
My forehead was beaded with sweat and I wipe it off with the palm of my hand. I check my watch: I took over 36.000 steps and burned 1500 carbohydrates. I walked almost 27 kilometers and 1000 altimeters.
Wow, I am already proud of myself and my friends. One last mountain peak before we see the Bürglhütte. Another half an hour and then we have completed it: the Pinzgau walk. This Pinzgau-walk is one of the most beautiful high-altitude trails in the Eastern Alps with an amazing view of the snow peaks of the Hohe Tauern. Hereby my report.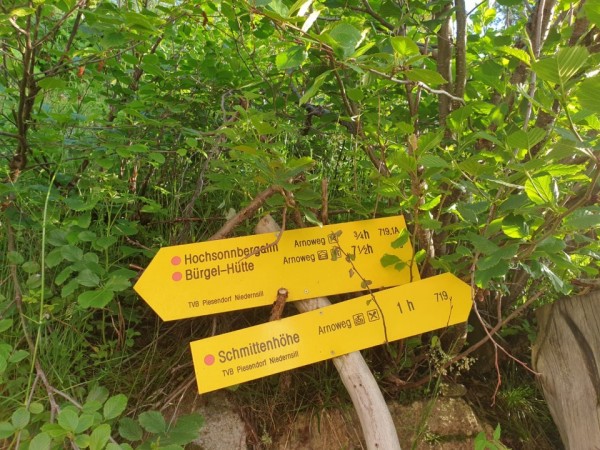 Torn by doubt
One day earlier, around half past 4 in the afternoon, I take the lift up to the Schmitten. My backpack is filled with sleeping gear, rain gear, blister plasters, insurance card, sun cream, painkillers, magnesium, sunglasses, sleeping bag, 2 water bottles, walking sticks, cap and food.
When I reach the top I head for the Pinzgauerhütte at an altitude of 1700 meters. I am going to sleep here and prepare myself mentally for my first long hike in the mountains. I must admit: I am a bit nervous. Can I do this? Is it not too far? Too high? I decide not to give in and convince myself that I can do this.
Sleeping in the Pinzguaerhütte in Zell am See
The Pinzgauerhütte –where I will sleep tonight – is managed by the Belgian Frank Bloemen. You can spend the night here (from 35 Euro per night including breakfast) in a sleeping area with several persons. We have booked a room for 4 persons. I meet my friends here and together we drink a "Mountain Hugo", a refreshing summer cocktail consisting of Prosecco, Elderflower syrup and mint.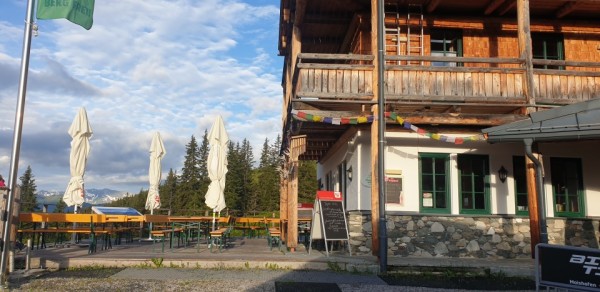 Outside it is less pleasant due to a violent thunderstorm. The weather forecast for our hike doesn't look very good. Hmm…it is still exciting whether we can start our hike. After a nice dinner and a couple of card games we go to bed. At 10.00 pm you must close your eyes if you are staying in an Austrian cabin. This is the so-called Hüttenruhe. Tip: bed linen in a cabin is not changed, so it is important to bring a sleeping bag and a pillowcase if you are going to spend the night in a cabin.
The next morning I get up at half past five and I want to take a shower. Oops, I got up too early, so I just go back to bed. I look out of my window and I notice the weather doesn't look too bad. Breakfast is served and at 7.36 am we set off. We report to Frank which tour we have planned and what will be our final destination. This is important, because anything can happen in the mountains and you don't always have a good WiFi-connection. If we don't reach our final destination, Frank can call in assistance. This gives us a safe feeling and we start in good spirits.
Beautiful weather and magnificent views
We walk from Zell am See to Stuhlfelden. During the entire tour, the Salzach valley, which is about 1000m below, lies at our feet. A couple of well-known mountain peaks rise above it: We see the Grossglockner, the Kitzsteinhorn, the Granatspitze, the Sonnblick and the Großvenediger.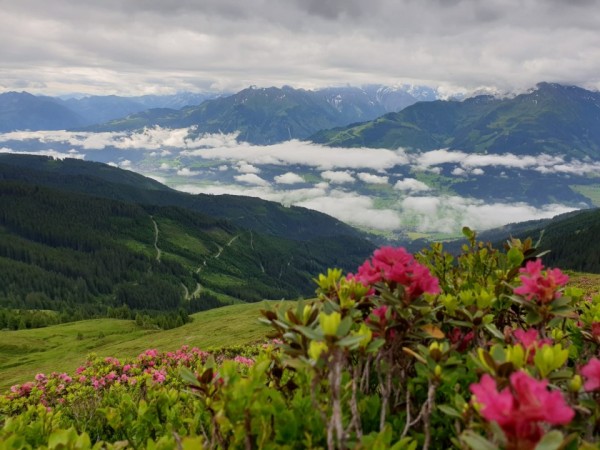 The start of our tour is fantastic. The sun is shining, the weather looks good. We alternately walk through the forest, narrow paths and open pastures. The view is indescribable; on our right we see the Leoganger Steinbergen and on our left we see the Kitzsteinhorn. Soon, I get some shoulder blade problems, because I am not used to wearing a backpack. Fortunately, it is not disturbing and I can continue our walk.
The Pinzgau Walk
The Pinzgau walk is a part of the so-called Arnoweg. It is a bypass around the Salzburgerland, a route of approx. 1200 km. The route is named after the Archbishop of Salzburg in Charlemagne's time. If you want to complete the entire route, you need a few weeks and a good condition. I first have to complete these 26 kilometers. Soon we pass the Hochsonnbergalm, the only manned Alm we will encounter during our trip. Unfortunately too early for a cup of coffee. We continue our walk. My friend Christine brought her dog "Ika", a Labrador which is familiar with the mountains. He is a trained dog and is regularly used as mountain rescue dog.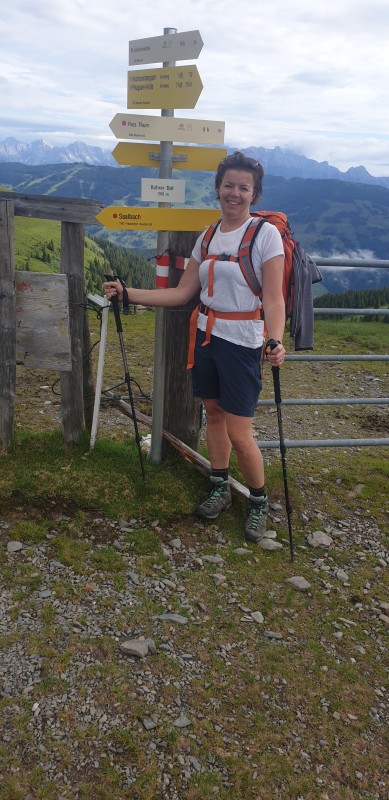 A view no pen can describe
We take our first break after approx. 2,5 hours in a shelter at an altitude of 1980 metres. In this cabin you can shelter when the weather changes. Fortunately, this wasn't necessary for us. We calm down and gain new energy by eating a sandwich. Soon, we continue our walk, because we still have to walk for many hours and we don't know what the weather will be like. I feel a nasty pressure point in my shoe, time for a blister plaster. We continue our walk.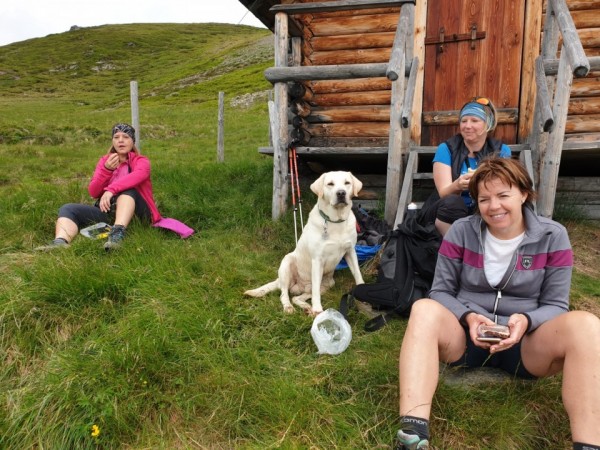 Now and then we feel a fresh breeze and we have to put on our jacket again and sometimes it gets hot and we put it off. Things are going great and we enjoy the fantastic view. We walk through the swampy meadow, encounter cows and horses and enjoy peace. No pen can describe the fantastic view at an altitude of 2000 metres. We see Piesendorf, Walchen, Niedernsill and Uttendorf; all of them 1000 metres lower. On the other side of the mountain we see the ski lifts of Saalbach and Hinterglemm. Now and then we have to climb a bit. We don't meet anyone and keep a close eye on the clouds. Actually, the weather is perfect for a hike, because if the sun would shine all day long it would be too hot and I would probably get a headache. I feel good, the weather remains good, so we continue our walk.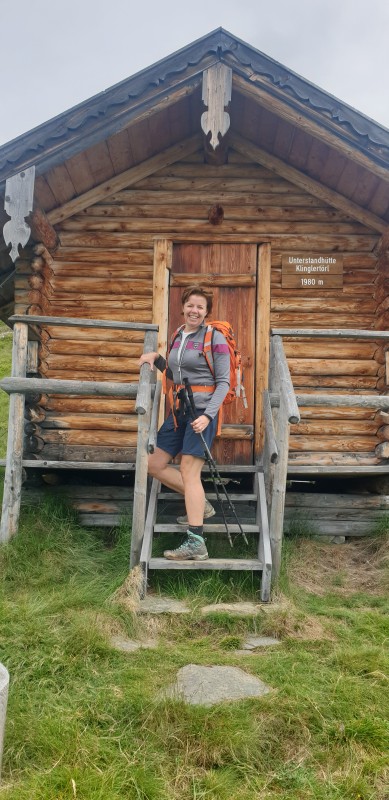 The last hour of our walk
After seven hours of walking, a few breaks I am looking forward to reach our final destination. I am starting to feel my legs. Fortunately, I have no new blisters. One last mountain peak before we see the Bürglhütte. Another half an hour, we estimate. We are going to make it!! At 03.38 pm we reach the terrace of the Bürglhütte in Stuhlfelden. We enjoy a well-deserved cup of coffee and to celebrate our arrival we enjoy a Zirbenschnapps together. We have made it. We took over 36.000 steps and burned 1500 carbohydrates. We walked almost 27 kilometers and 1000 altimeters. We are picked up by car at the Bürglhütte. We could walk back to the valley, but that would take us another 2 hours, so we decided not to do that.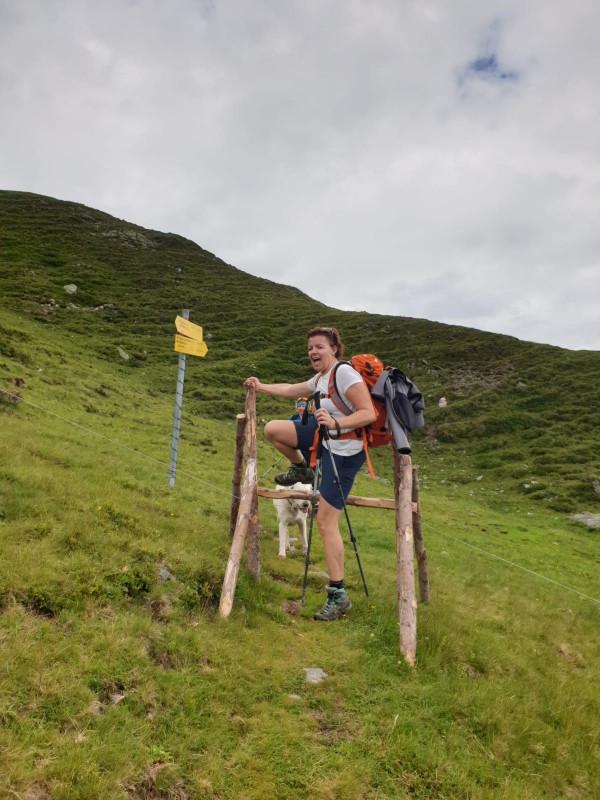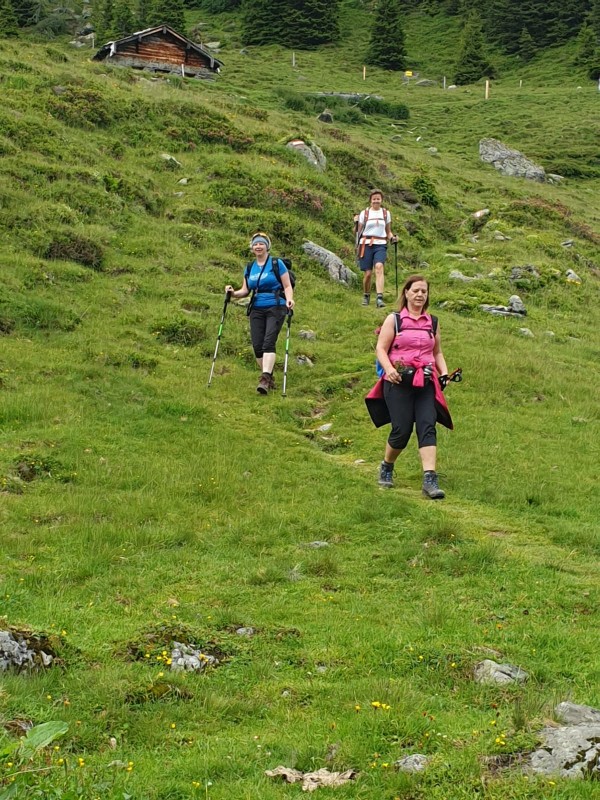 I am extremely proud of myself and my fellow walkers. The weather was fine and we had a fantastic day. I have surpassed myself, I am in a good condition and can take a hike like this.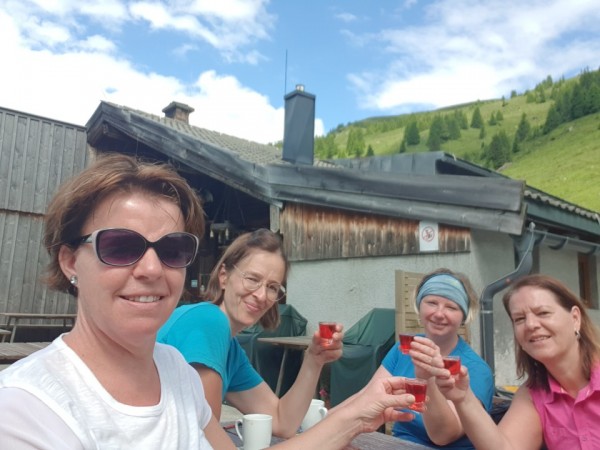 Tip: Halfway you can also bear off to Saalbach, this walk takes 6 hours in total. Then you can go down with the Schattbergbahn.