Cycling in Zell am See and Kaprun, 6 useful tips
Susan 18 August 2020 Reading time 8 minutes
Have you ever thought about cycling in the mountains during your summer holiday in the Salzburgerland?
You probably think of walking in the mountains if you visit Austria in summer, but cycling is also a very good option. The introduction of E-bikes had made cycling in the mountains more popular than ever. Did you know that Zell am See region has more than 240 km of cycle paths?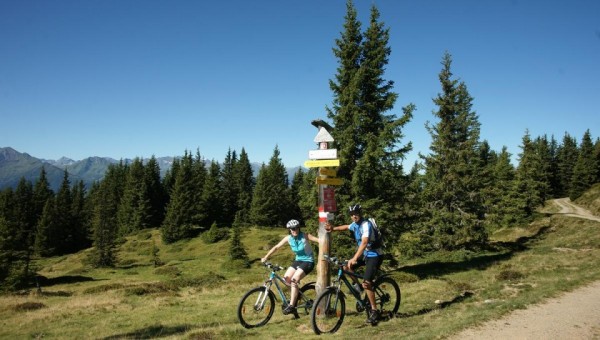 Bike rental in this region works overtime because every holidaymaker wants to cycle for a day. And after one day of cycling, this sport is addictive….
Is cycling in Zell am See possible? Isn't cycling in the mountains too heavy or dangerous? Shouldn't you be a trained cyclist?
Read my cycling tips for cycling and mountainbiking in Zell am See and Kaprun.
Tip 1: Cycling on the Tauernradweg
The famous Tauernradweg has a total length of 325 km. This cycling route goes from Krimml to Passau. This cycling route goes through Zell am See and invites all families and recreational cyclists to get on the bike and explore the area.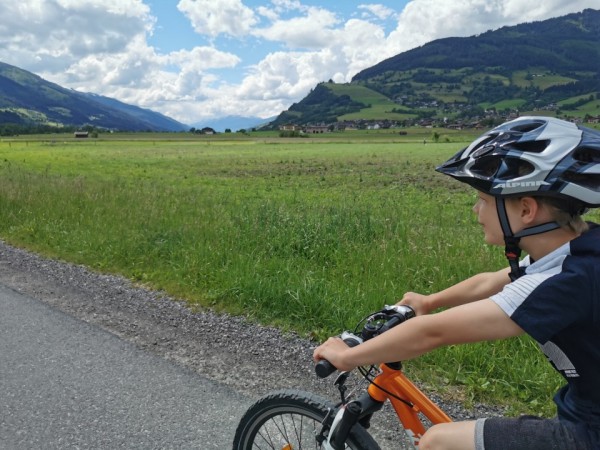 A beautiful bike ride on the Tauernradweg from Piesendorf to the Krimmler waterfalls is highly recommendable. A tour of approx. 50 km on a reasonably flat road. I recommend to cycle the route from west to east, so starting in Krimml and then back to Zell am See. This route is largely (slightly) downhill and the number of ascents is limited. So first by train to Krimml. The Pinzgau Lokalbahn has a special bike wagon. It must be booked in advance. You pay an additional amount of Euro 3,00 for your bike (one-way ticket Euro 11,00 per adult).
When you arrive in Krimml, you take a couple of nice pictures of the highest waterfall in Europe and enjoy the splashing water: a fantastic piece of Austrian nature.
Then back to Piesendorf by bike, the route is well signposted. By the way, don't forget to get of your bike now and then and enjoy the fantastic surroundings. You can choose yourself whether you want to take on this challenge with or without battery. Both options are possible.
Tip 2: A tour around the Zellersee
Would you like to experience the famous Zellersee in a special way? We highly recommend a tour around the lake. The lake is beautifully hidden between the mountains, so wherever you look; you will always enjoy a beautiful view! By cycling around the lake you can admire the Zellersee from all sides, which always leads to new discoveries.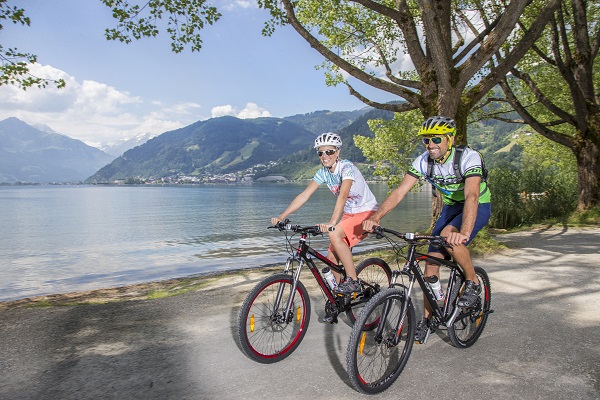 The tour can be done by regular mountainbike or tour bike for the sporty types. You can of course also choose an E-bike, so you will cycle around the lake without even sweating. From Piesendorf this tour is ca. 35 km. Along the way you can enjoy a terrace or take a nice dip in the lake in case of warm weather. You can also visit the cosy tourist city Zell am See. Another fantastic, sporty holiday!
Tip 3: By E-mountainbike to the 2000 meters…..
Have you ever cycled uphill? This can and does not have to be that heavy as well. You can even use an E-mountainbike. In this region there are various routes for different levels.
As with the ski slopes, the cycle routes in the mountains are marked in a specific colour.
Blue road – Easy
Family-friendly cycle paths, easy to do with a normal bike, good roads. Suitable for mountainbike beginners and advanced cyclists. These are short tours with a slight gradient of 5 to a maximum of 10%.
Red road- Intermediate
Only suitable for mountainbikes, for sporty, experienced cyclists. Up to an altitude of 1500 meters with a gradient of up to 17%. Sometimes unclear sharp bends, rocky paths with loose gravel and drainage gutters.
Black road - Difficult
Difficult and advanced mountainbike-route with gradients of over 17%. Dangerous parts must be taken into account. The speed, especially when descending, must be adjusted to the situation. 100% concentration is required. Brake gradually when descending and always use 2 brakes.
Cycling uphill and downhill with the E-mountainbike requires some skill and concentration. Always wear a helmet and don't use a bike with narrow tires. Make sure your battery is fully charged. Many cabins in the mountains offer the possibility to charge your battery, so don't forget to bring your charger, to avoid unpleasant surprises. It is very cool to get off your bike for a while and enjoy the amazing view.
If you feel a little insecure about going into the mountains by mountainbike, you can always consider to join a bike-guide!
Tip 4: From Piesendorf to the Hochsonnbergalm
A nice tour with sufficient challenge for the experienced mountainbiker without battery.
If you want to enjoy the area and not arrive too sweaty, we recommend the E-mountainbike. 11 km up with an altitude increase of over 1000 meters. Without battery it will take you approx. 1 hour and 45 minutes. With battery half the time.
Take a break at the Hochsonnbergalm. Enjoy a refreshing drink and an Austrian Jausenplatte. Then via the ridge towards the Schmitten in Zell am See, along the Pinzgauerhütte and then down again. What a nice view and what a special experience to cycle over the mountain tops. Be careful when descending, it requires some skill. Be sure to check your speed, take it easy, after all it is holiday.
There are many nice cycle tours in the region, too much to describe in my blog. Fortunately, there is a digital bicycle route map with various tours in the region: Bike Activities Zell am See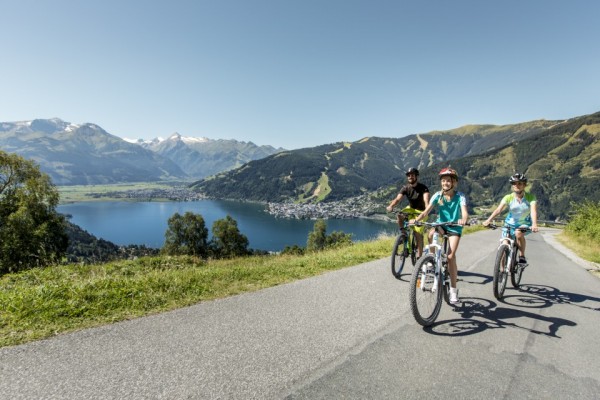 Tip 5: Especially for experienced cyclists
You should definitely not miss the ultimate challenge to climb the highest mountain of Austria, the Großglockner Hochalpenstraße: a tour of 72,4 km with 1.658 altimeters.
But there is much more in the region:
- Kitzbüheler Runde: 124,9 km, 1.140 altimeters
- Pillerseerunde: 104,3 km, 830 altimeters
- Dientner Runde + Rauriserhöhe: 72,7 km, 900 altimeters
Every year the Glocknerkönig and the Ironman are organized in Zell am See.
Tip 6: Adrenalin-Kick, down-hill in Kaprun
On the Kitzsteinhorn in Kaprun you will find 3 new free-ride trails of a total of 16km. Go up by lift and then down-hill:
- The Hochalpine Geißstein-trial, 3144 meters long and 500 altimeters.
- The Wüstlau-Trial, 7700 m long and 1040 altimeters.
- The Bachler-Trail, also for beginners, 5200 m long and 600 altimeters.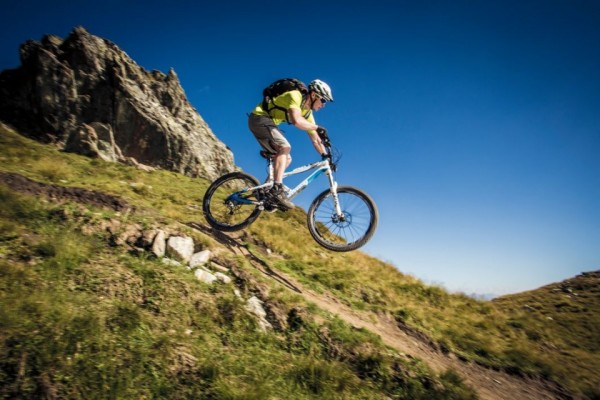 The Salzburgerland has a lot to offer when it comes to cycling and mountainbiking in the mountains. Cycling is extremely popular in Zell am See. You will come to special places and enjoy beautiful views. You can bring your own bike to Austria or rent one in the region (in high-season it is highly recommendable to rent bikes in advance).