Dogs are allowed
The dog is a human's best friend and cordially welcomed in several of our accommodations.
In Haus Piesendorf, dogs are allowed on request in a couple of apartments. The basement of Haus Piesendorf offers a spacious apartment with 4 bedrooms and a fenced garden. Perfect for dog owners.
Our Tauernhütte and Haus Walchen are very recommendable for guests with dogs. These detached accommodations have a fenced garden. Perfect for your best friend.
The accommodations have a luxury leather basket with feeding/drinking station. On request, we can also arrange a clean dog rug, but perhaps an own rug is more comfortable and more familiar for your dog. We charge Euro 10 per night for one dog and Euro 15 per night for 2 dogs. At arrival, you will find a small surprise for your dog.
The maximum amount of dogs per accommodation varies. Feel free to send us a message for more information.
Good to know if you take your dog to Austria
Ask your vet in advance which vaccinations the dog needs for foreign countries. In Austria and Germany the rabies vaccination is mandatory. Don't forget a tick means and/or treatment against flees, because Austria is a high-risk country for ticks, especially in the forest and high grass in spring, autumn and during the summer months.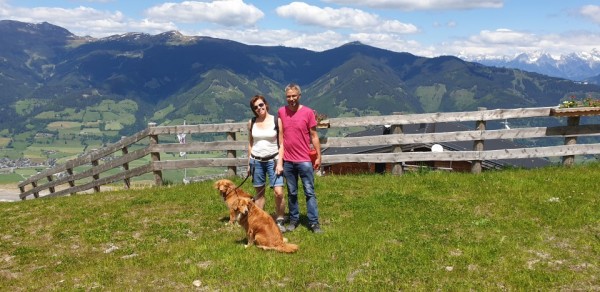 In Austria you must always keep your dog on the leash. Your dog is allowed in lifts, but wearing a muzzle is mandatory in that case. You can borrow one at the cash register (deposit required). A muzzle is also mandatory in public transport.
Our cabin is located near an off-leash area for dogs, a fenced meadow where dogs can play. Here, your dog can also swim in the Salzach on hot days.
We have good contacts with a vet in this area, so if there is something wrong during your holiday, we can support you.
On request, on location, you can join an organized dog walk with an experienced guide. Unfortunately, you can't make a reservation. Only on arrival we can inquire whether you can participate. A guided long walk costs Euro 50 per person per day. For more information about these walks, you can contact us.