Come ski touring in Austria | Haus Piesendorf
Susan 18 November 2020 Reading time 6 minutes
Come ski touring in Austria and enjoy peace and nature off-piste
Have you been going on winter sports to Austria for many years now and are you looking for a new challenge? GO ski touring. For this, you don't have to be an advanced skier, because you can go with a guide. He knows the most beautiful off the beaten track and lets you enjoy peace and nature off-piste.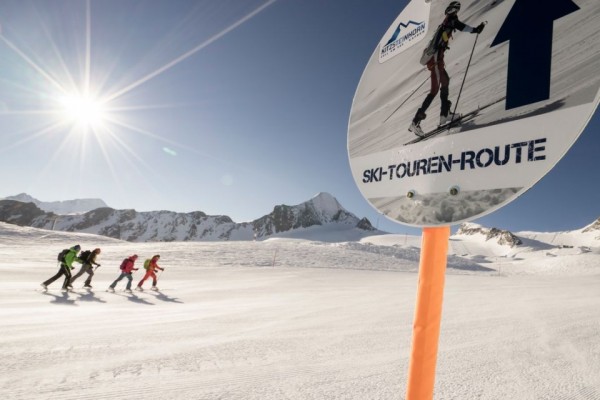 Ski touring combines mountain hiking with skiing. You go up the mountain on foot instead of with a ski lift and you down off-piste through the powder snow. Ski touring in Zell am See is a nice way to discover even more of all the beauty Austria has to offer in winter.
Into the nature of Zell am See
You have probably seen them walking. Skiers trudging up the mountain along the side of the piste. You wonder:" Are these people too frugal to buy a ski pass? Why don't they just use the ski lift? You probably saw ski tourers passing by. They usually disappear on the other side of the mountain, into nature.
A piece of history
Although most people have only recently become acquainted with ski touring, this sport has existed for many years now. In the past, the Austrians tied up the touring skis to be able to easily move around in the mountains in winter. Not for fun, but for necessary activities, such as shopping and carrying out work. At a time, when there were no ski lifts yet, it was a perfect way to go through the snow.
Ski touring: this is how it works
Ski touring is a combination of mountain hiking and skiing. By using climbing skins, which you stick under your skis, you walk up a mountain through the snow. Then, you ski down again at any desired location, of course after having removed the climbing skins from your skis. As you go off-piste, it is advisable to bring a guide who knows the area and the conditions. Most of the avalanches are still caused by skiers going off-piste. A good guide knows exactly under which conditions it is safe and which routes are suitable.
For ski touring you use different skis than for alpine skiing. Because you also have been able to walk with them, these skis are much shorter and lighter than common skis. In addition, you also use different ski boots. With normal, hard ski boots it is almost impossible to go up a mountain. Ski touring boots are therefore more flexible and have a sole suitable for walking.
In addition, you can for example also mount crampons, when the terrain is difficult to access. The heel of ski touring skis can be released from the ski, as is the case with cross-country skiing. Finally, these boots are much lighter than common ski boots. That saves a lot of energy when climbing the mountain!
On adventure in Zell am See
Ski touring is therefore a lot more adventurous than alpine skiing. It costs more energy, because you walk up the mountain yourself, instead of using a ski lift. In addition, you come to places where no one else goes. A special experience, especially if you already know all pistes like the back of your hand. The area outside these well-known slopes will bring you a new winter sports experience. You can go downhill, but also opt for a hut tour. Ski touring in Zell am See is the perfect way to fully enjoy the powder snow. With a guide you can go off-piste as safe as possible.
Ski touring therefore has different advantages compared to alpine skiing. You don't use ski lifts, so you don't have to wait very long. Especially in times of corona, it is very nice to avoid crowded places (such as ski lifts). You will discover unique places and enjoy peace and nature. On top of all, you usually have the powder snow all to yourself!
Ski touring in Zell am See
Are you up for something new, something different? Do you feel like going on an adventure, but have you never been off-piste so far? Come ski-touring in Zell am See! We will put you in contact with certified mountain guides who guide tours and give workshops. Discover Austria in an adventurous way! More information? Please feel free to contact us. We love to give you more information about the possibilities!