Recipe for apfelstrudel
Susan 17 June 2020 Reading time 5 minutes
If you say Austria, you automatically say "Apple strudel". Well, I can hear you thinking: huh, in summer? That's right! But I have a very good reason, because today – 17 June – is the National Apfelstrudel Day.
In this blog you will find a traditional recipe for apfelstrudel, make your own apfelstrudel. Before we start, some facts about the Austrian apfelstrudel
Why apfelstrudel day ?
This day was invented by the American food blogger John-Bryan Hopkins. We don't know why he chose this day, 17 June, because that same day is also the "eat-your-vegetables-day". So after having eaten your vegetables you can reward yourself with a tasty apfelstrudel. By the way, did you know that the apple strudel in Austria is not only eaten as dessert, but also as a delicacy with coffee or hot chocolate?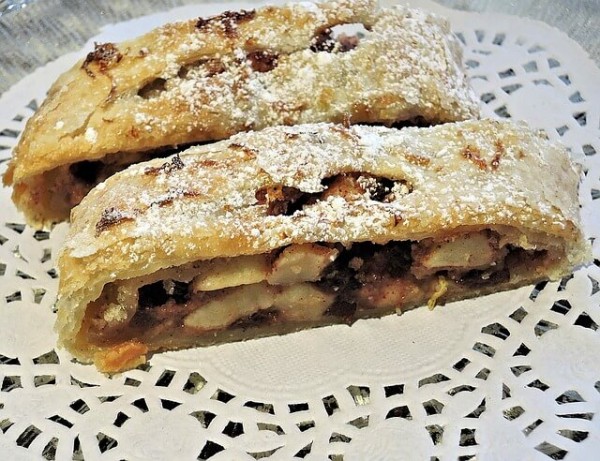 History of the apfelstrudel
The apfelstrudel is related to the "baklava" and made a long journey, via Egypt, Palestine and Syria, before it finally became one of the most well-known dishes of Austria. The oldest recipe already dates from 1696!
How do you make the best apfelstrudel? I am happy to tell you, I have the recipe
The preparation of the strudel dough is very important and, of course, requires some time. You can also use the ready-made puff pastry which is available in the freezer of your supermarket. The traditional filling of the apple strudel consists of peeled apples (without pips). I prefer to use sweet and sour apples. Here in Austria, these apples are also called "strudlers".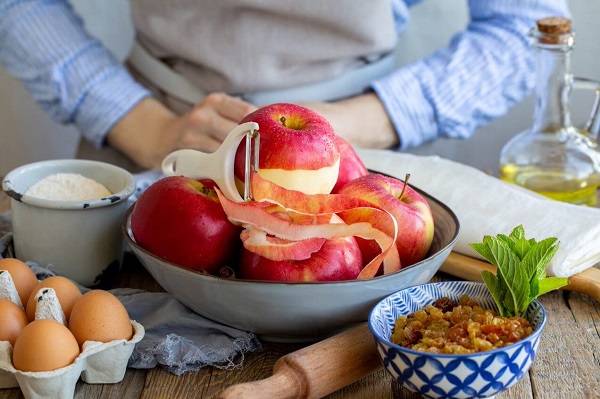 The apple mix is supplemented with dark raisins and breadcrumbs roasted in butter, which are then refined with ground cinnamon and granulated sugar. There are many recipes available for the filling, such as flaked almonds, chopped walnuts, roasted hazelnuts, custard powder, two tablespoons of apricot jam or rum-dipped raisons etc. Let your imagination work and just try something out.

There are also a variety of serving options cold or warm: simply sprinkle with icing sugar, serve with warm vanilla sauce, cold vanilla ice or homemade whipped cream.

Apfelstrudel recipe:
What do you need to make apple strudel for 6 persons?
For the dough:
375 grams flour
1 ½ teaspoon sunflower oil
1 ½ teaspoon vinegar
1 ½ egg
200 ml lukewarm water
A pinch of salt
For the filling:
150 grams butter
120 grams breadcrumbs
75 grams unsalted nuts, for example walnuts or hazelnuts
130 grams granulated sugar
6 sour apples
4 teaspoons of cinnamon
100 grams soaked raisons (possibly soaked in Stroh rum)
Juice of half a lemon
Little bag of vanilla sugar
Step 1: sift the flour and put it in a bowl and add the sunflower oil, vinegar, egg, water and salt. Knead the dough by hand until it is smooth. Then, let the dough rest in the bowl (covered) for about 1 hour. If your dough is too wet, you can add some more flour.
Step 2: Meanwhile peel the apples and cut them into pieces. Mix them in a bowl with the raisins, cinnamon, 4 tablespoons of granulated sugar and the lemon juice
Meanwhile, preheat the oven to 190 degrees.
Step 3: Put half of the butter in a skillet and let it melt, fry the nut mixture, the vanilla sugar and the breadcrumbs until it is gold brown. Then, let it drain on kitchen paper.
Step 4: The most difficult part of my recipe: rolling out the dough. Put a clean, cotton tea towel on the worktop and sprinkle it with some flour. Roll out the dough with a rolling pin and your hands into a super thin dough sheet.
Step 5: Sprinkle 2/3rd of the dough sheet with the breadcrumbs/nut mixture and then add the apple mixture. Fold the rest of the dough sheet over the apples, then fold the sides back. Use the tea towel to further roll up the apple strudel. Put the dough on a baking tray with parchment paper and spread it with melted butter.
Step 6: Bake the apple strudel 40-60 minutes in the oven (190 °C).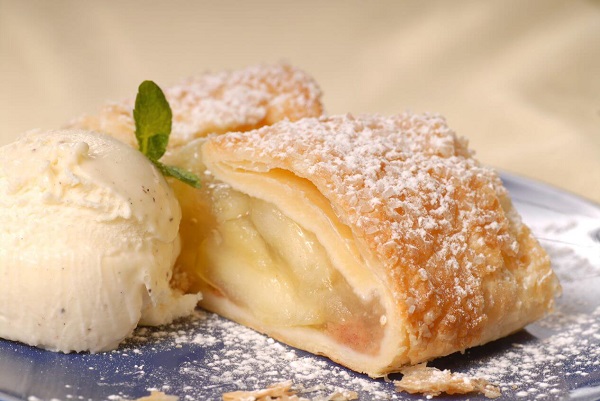 For the real gourmets: apple strudel smoothie
I would like to reveal another special recipe. Nowadays, making a smoothie is very trendy. How about a warm apple strudel smoothie
What do you need for 2 glasses?
40 grams unpeeled almonds
350 ml water
5 dried dates
50 ml apple juice
½ teaspoon of cinnamon
½ teaspoon of gingerbread spices
2 red apples quartered without pips, with skin
Step 1: Puree water and dates with a hand blender, approx. 1 minute
Step 2: Add apple juice, cinnamon powder, gingerbread spices and apples and cook lightly approx. 10 minutes
Step 3: Puree everything with a hand blender again and serve it warm in a glass.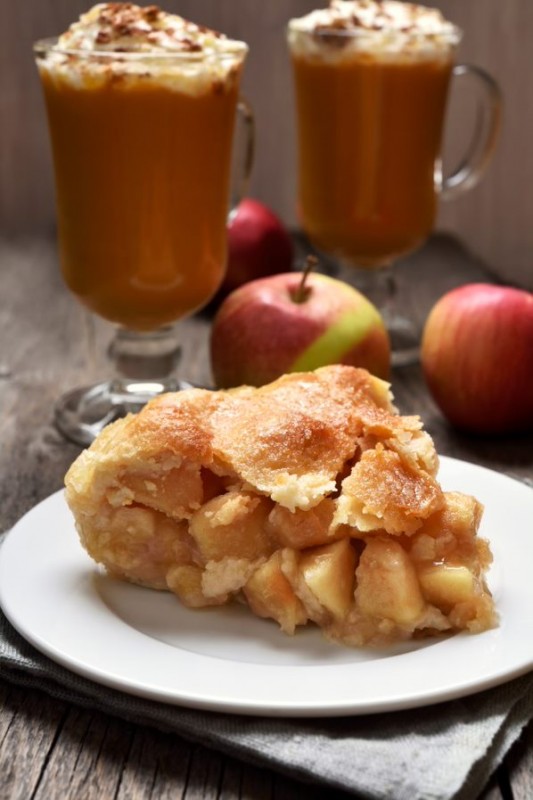 The smell reminds of Christmas time and is lovely on cold days. Pure enjoyment. One glass contains approx. 258 kcal.
Now you can make the most delicious apfelstrudel at home and bring the Austrian atmosphere into your home. Good luck with baking.
Hurray for National Apfelstrudel Day! I wish you a very happy national apple strudel day and….bon appetite!